Property Search
Properties
Showing 11-20 of 103 properties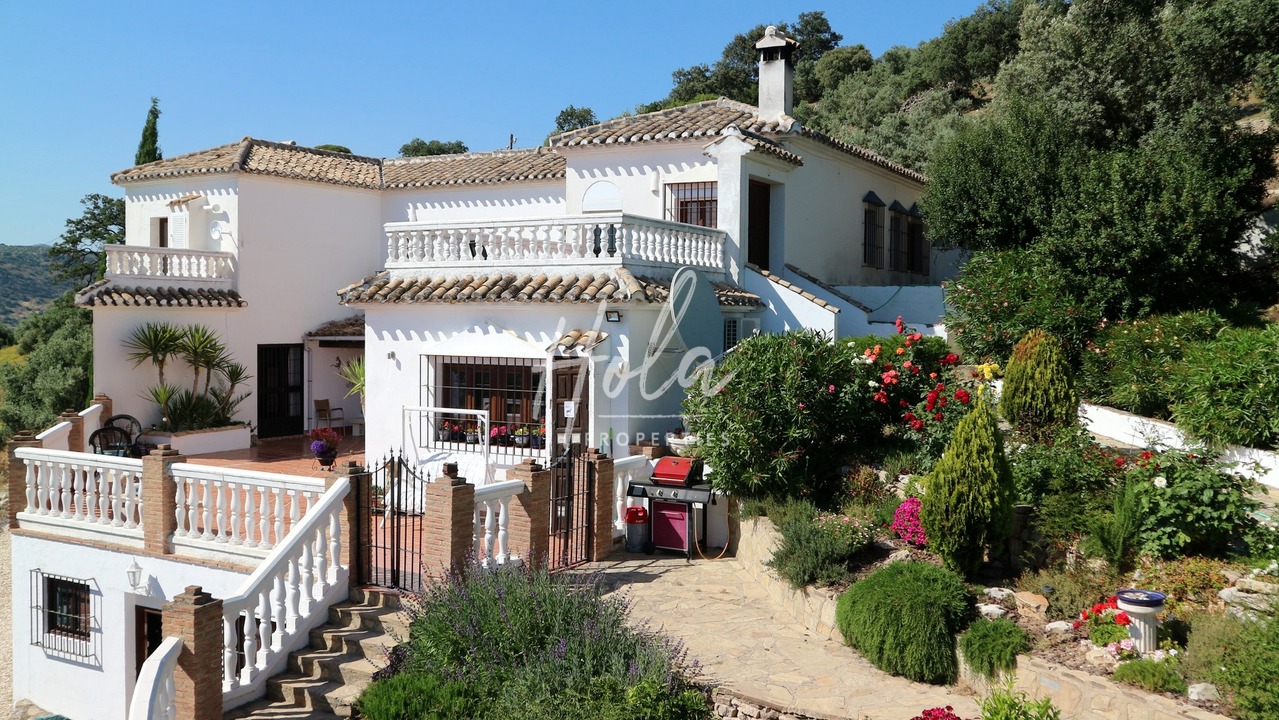 Iznajar
Reference: LLW-Cortijo Suenos
€500,000 Asking Price
Chalet for sale
Located in the hills of the much sought after white village of Iznajar in the Cordoba province this property is ready to go for anyone wanting a beautiful family home and an existing business. The access is very easy and less than 10 minutes away from the main village and offers spectacular views in a peaceful and private yet not isolated location. There is parking for a number of cars and separate parking for the Casita to the front and around the property. A large private front terrace with lots of seating and dining areas with 360 degree views, leads you to the main house leading into the entrance hall. This is a large light area with a pellet burner and built in bookcases would work well as an office space. Off it is a large family lounge with a fireplace and double doors leading to the patio again a very light room. The ground floor also has a very large family kitchen/diner modern and fully fitted with air conditioning and a wood burner, a good sized utility room along with a family bathroom with a bath. The second floor of the main house has a bright and airy landing area currently used as an office space and access to a raised sun terrace. There is a large master bedroom with built-in wardrobes and a very large en suite with a full bath and separate walk in shower and french doors leading out to a terrace with great views across the village and lake. There are three further large light double bedrooms, two having en suites. The Casita is separate from the house and has a letting licence in place which can be transferred to new owners.It has its own parking and a splash pool. It has two bedrooms with en suite shower rooms one with an air con unit and both with wardrobe space.There is an open plan kitchen/diner and lounge area with a pellet burner and air conditioning also to the front is a pretty outside eating area, gardens, private parking and a 3m by 3m pool. The Casita will be sold fully furnished by the current owners. The house of 335sqm and the Casita sits in 3064sqm of well maintained landscaped gardens which are filled with various fruit trees, the pool for the main house is 9m by 5m with lots of seating around it and access to a large raised terrace with fantastic views across the lake. The property has mains water supply, mains electricity and good internet connection you can literally move straight in if there is no work to do at all. Iznajar is a highly sought area because of its beautiful location and the lake Malaga and Granada airports are less than an hours drive and the Casita could be let all year round. In Iznajar there are many restaurants and bars along with a supermarket, school etc and the lake during the Summer months offers many activities including sailing, fishing or just relaxing on the beach area Please ask us for more information
Lanjaron
Reference: LLW-Chalet BodegaDos
€350,000 Asking Price
Chalet for sale
We do not charge buyers fees - you can save up to 5%. Contact us for more information. Exclusively Available with Lanjaron Property & Orgiva Property. The video tour is available on our website. Just at the edge of Lanjaron, within walking distance of the town, there is an incredible opportunity. Chalet Bodega. This vast property has the potential to be an ideal family home or also a great location for a business. As you walk through the traditional entranceway and into the front gardens you immediately notice the privacy that this chalet has to offer despite its proximity to the town. The main house has four large bedrooms, an expansive lounge, a separate kitchen, and a pantry. As you walk out onto the back terrace the views do quite literally take your breath away. When buying close to the town it is common to have to compromise on views, but this is not the case at Chalet Bodega. As you move down to the lower floor of the house you are in for a real surprise. Below the main house is a huge workshop space, tool room, and even a bodega. This property offers many options for anyone hoping to work from home. All of the land surrounding the property has been set up for easy maintenance, and we know you will just love being able to sample your very own olive oil grown and picked at the property. Chalet Bodega is a one-of-a-kind property that is becoming increasingly more elusive in this area. Don´t miss out! Call us on 0034 695 398 679 for more information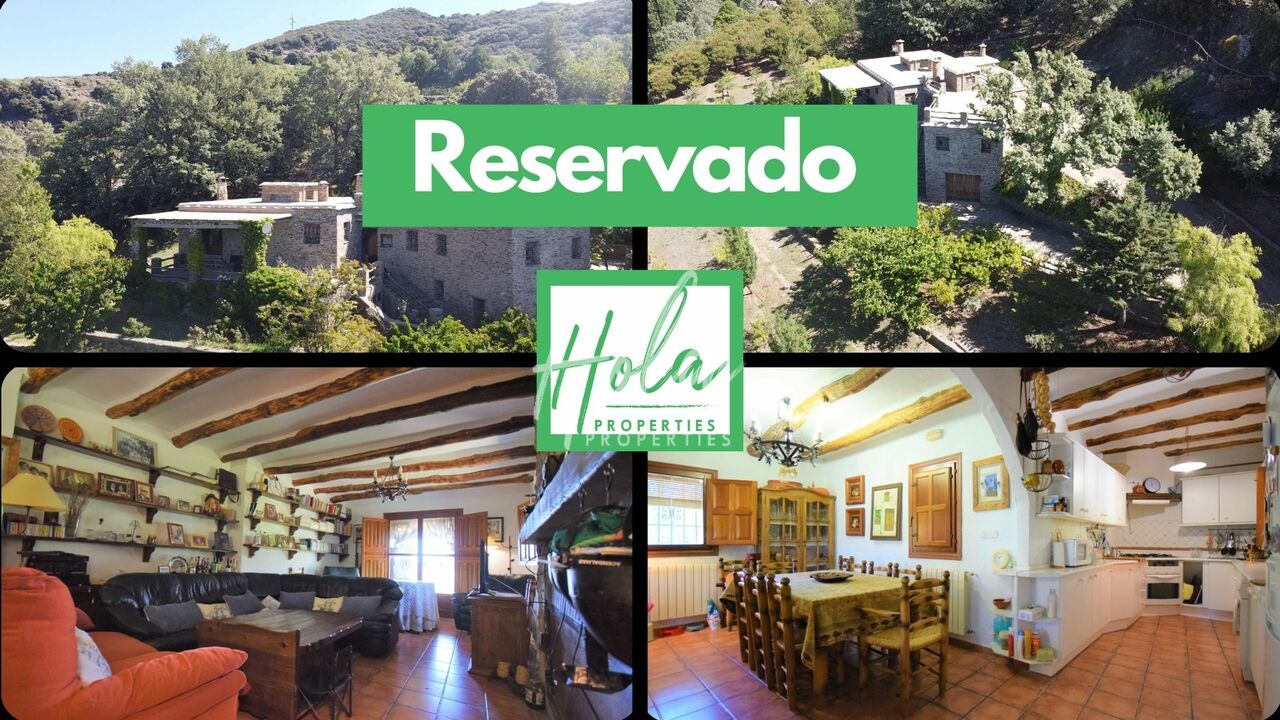 Alpujarra
Reference: LLW-Cortijo Pizarra
€350,000 Asking Price
Cortijo for sale
Part of our exclusive collection Cortijo Pizarra is located above the village of Capileira, in a privileged location that offers panoramic views of the picturesque village and the impressive Barranco de Poqueira. Built with stone and wood, this charming 275 m2 cortijo offers a rustic and traditional ambiance. Inside, you will find a spacious kitchen with a dining area and a large living room, perfect for relaxing and enjoying special moments with your loved ones. The three bedrooms in the cortijo have private bathrooms, providing comfort and privacy. The double-glazed windows with Iroko wooden frames offer thermal and acoustic insulation. Cortijo Pizarra also includes a spacious garage, ideal for accommodating multiple cars. As for the outdoor areas, it features several terraces, including a rooftop terrace where you can enjoy panoramic views of the village of Capileira and the Barranco de Poqueira. There is also a porch with views and an area with a barbecue and wood-fired oven, perfect for outdoor dining. Additionally, there is another porch at the entrance of the house. The property is surrounded by an extensive 14,000 m2 estate, which includes different fruit trees such as cherry, apple, and pear, among others. It also features a pine forest area, ideal for strolling within the estate, and a designated vegetable garden area for those interested in agriculture or gardening. Cortijo Pizarra is a unique opportunity for those seeking a special property in a peaceful and picturesque setting in the Barranco de Poqueira. We do not charge commission to buyers - you can save up to 5%. Contact us for more information.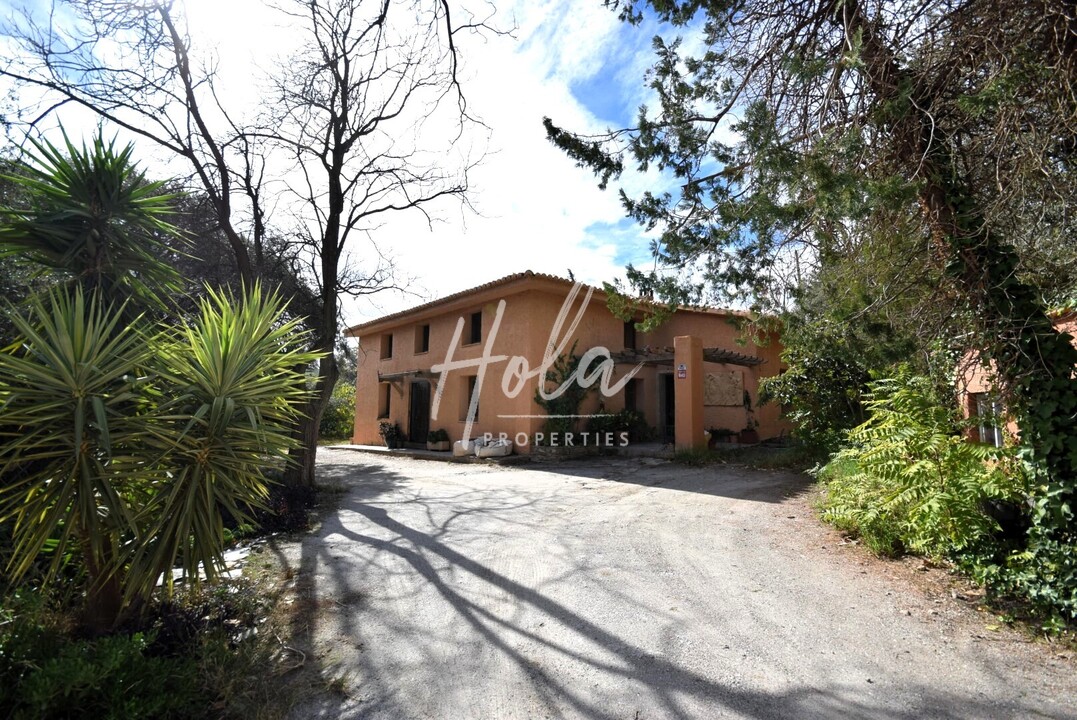 Orgiva
Reference: LLW-Casa Arcadia
€340,000 Asking Price
Chalet for sale
Casa Arcadia is an exceptional country house located in Orgiva, offering a unique style and a tranquil natural setting. For more information Just click the link.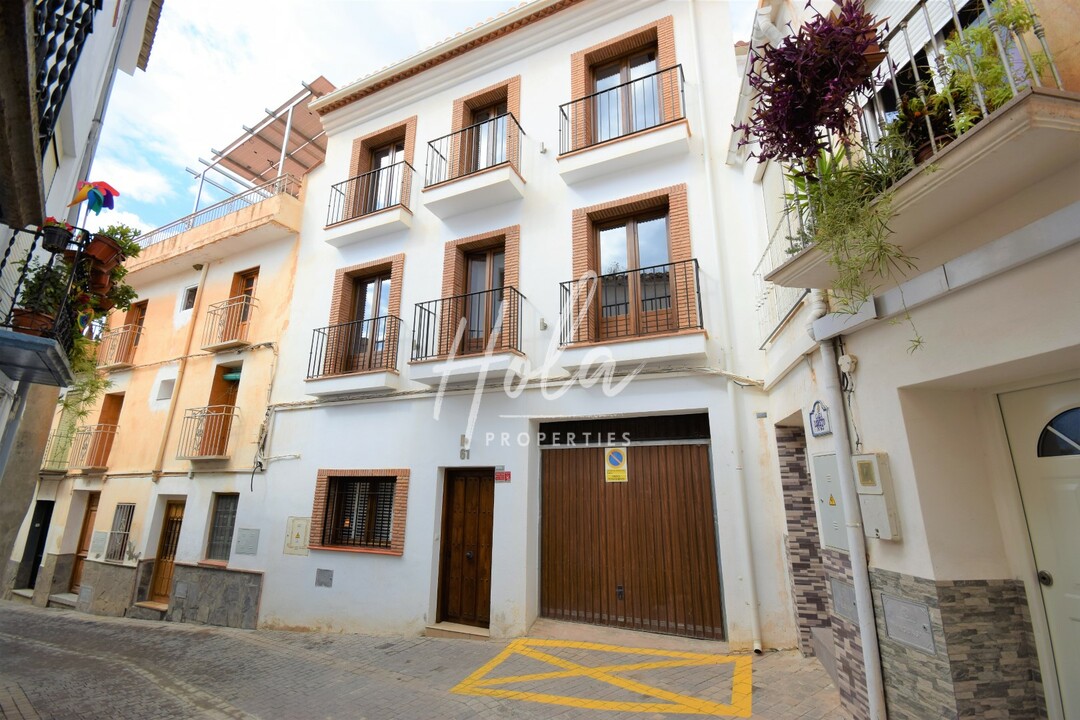 Orgiva
Reference: LLW-Casa Jade
€325,000 Asking Price
Townhouse for sale
Part of our exclusive collection Introducing Casa Jade - a three-story village house that embodies elegance and comfort. This remarkable property boasts four bedrooms, each with its own en-suite bathroom, while the master bedroom features a generously-sized dressing room. The heart of Casa Jade is its spacious kitchen, characterized by its simple yet high-quality design, seamlessly flowing into a roomy dining area and living space where you can unwind by the warmth of the wood-burning stove. Convenience and security are key with the ample garage, offering trouble-free parking and additional storage space. The outdoor patio, adorned with fruit trees and charming planters, enhances the kitchen's natural light and privacy, thanks to its Iroco wood doors and double-glazed windows. Two additional terraces further enhance this property's appeal, with one adjacent to a first-floor double bedroom and a larger terrace on the second floor, providing unbeatable views and the perfect spot for barbecues with friends and family. Crafted with meticulous attention to detail and the highest quality materials, Casa Jade features underfloor heating throughout, elegant marble stairs, a state-of-the-art stainless steel kitchen, and tastefully minimalist furniture. Casa Jade's location is truly privileged, nestled in the upper part of Orgiva's urban core, a highly sought-after area. This property offers a unique opportunity to embrace a lifestyle that combines sophistication, comfort, and the charm of a coveted location in Orgiva's historic town. Unlike many other agents, we do not charge buyers fees, so you can save up to 5% on your purchase costs! Ask us for more information about this on 00 34 657 60 82 96
Lecrin Valley
Reference: LLW-Casa Carambola
€300,000 Asking Price
Town house for sale
𝐏𝐚𝐫𝐭 𝐨𝐟 𝐨𝐮𝐫 𝐞𝐱𝐜𝐥𝐮𝐬𝐢𝐯𝐞 𝐜𝐨𝐥𝐥𝐞𝐜𝐭𝐢𝐨𝐧 𝐂𝐚𝐬𝐚 𝐂𝐚𝐫𝐚𝐦𝐛𝐨𝐥𝐚 𝐢𝐬 𝐚 𝐡𝐢𝐝𝐝𝐞𝐧 𝐠𝐞𝐦 𝐧𝐞𝐬𝐭𝐥𝐞𝐝 𝐣𝐮𝐬𝐭 𝐚𝐛𝐨𝐯𝐞 𝐭𝐡𝐞 𝐑𝐢𝐨 𝐒𝐚𝐥𝐞𝐫𝐞𝐬 𝐫𝐚𝐯𝐢𝐧𝐞 𝐢𝐧 𝐀𝐥𝐛𝐮𝐧𝐮𝐞𝐥𝐚𝐬,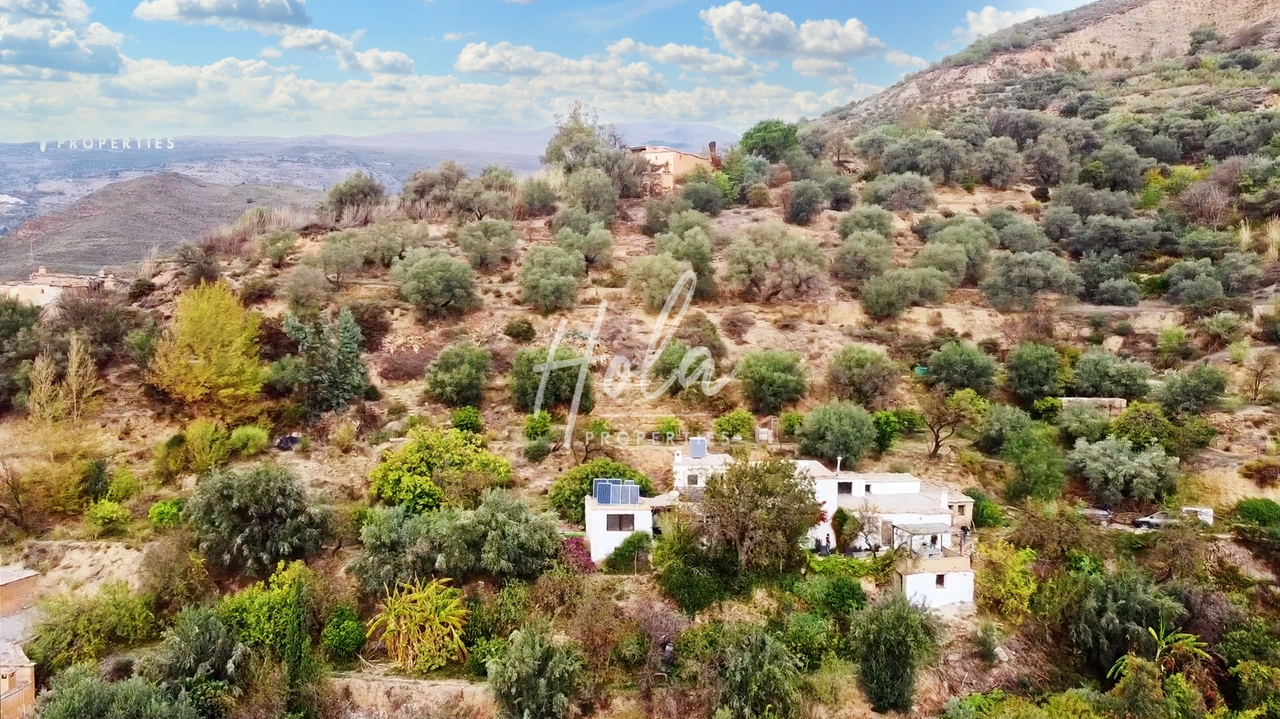 Orgiva
Reference: LLW-Cortijo Cielo
€285,000 Asking Price
Cortijo for sale
Part of our exclusive collection -Cortijo Cielo, located just 15 minutes from Orgiva, offers a unique opportunity for both living and working harmoniously. Click the link for more information.
La Alpujarra
Reference: LLW-Finca Roble
€280,000 Asking Price
Cortijo for sale
We do not charge commission to buyers - you can save up to 5%. Contact us for more information Video tour available on our wbesite! We have seen many impressive off grid properties but Finca Roble is up there with the best of them. This finca can be found tucked out of the way in the Sierra Nevada mountains in the most spectacular secluded location. Surrounded by oak trees with views of the Med, Finca Roble has not just one cottage but two. With nine bedrooms in total, you will be able to live in on and rent out the other. Both cortijos were built in the early 2000s to a very high standard. They are absolutely ready to move into. Apart from the main accommodation, there is a vast warehouse/garage that could easily be converted into yet more accommodation. Spring and acequia water feed in to an idyllic swimming pool where you can float below the apple blossoms. If you dream of not only being off grid but self-sufficient, then Finca Roble could not be more perfect. With over 8 hectares of land including flat pastures that have previously been planted with a great variety of veggies, self-sufficiency could not be easier to achieve. For anyone looking to be off gird in La Alpujarra, Finca Roble is a must see. We do not charge buyers fees!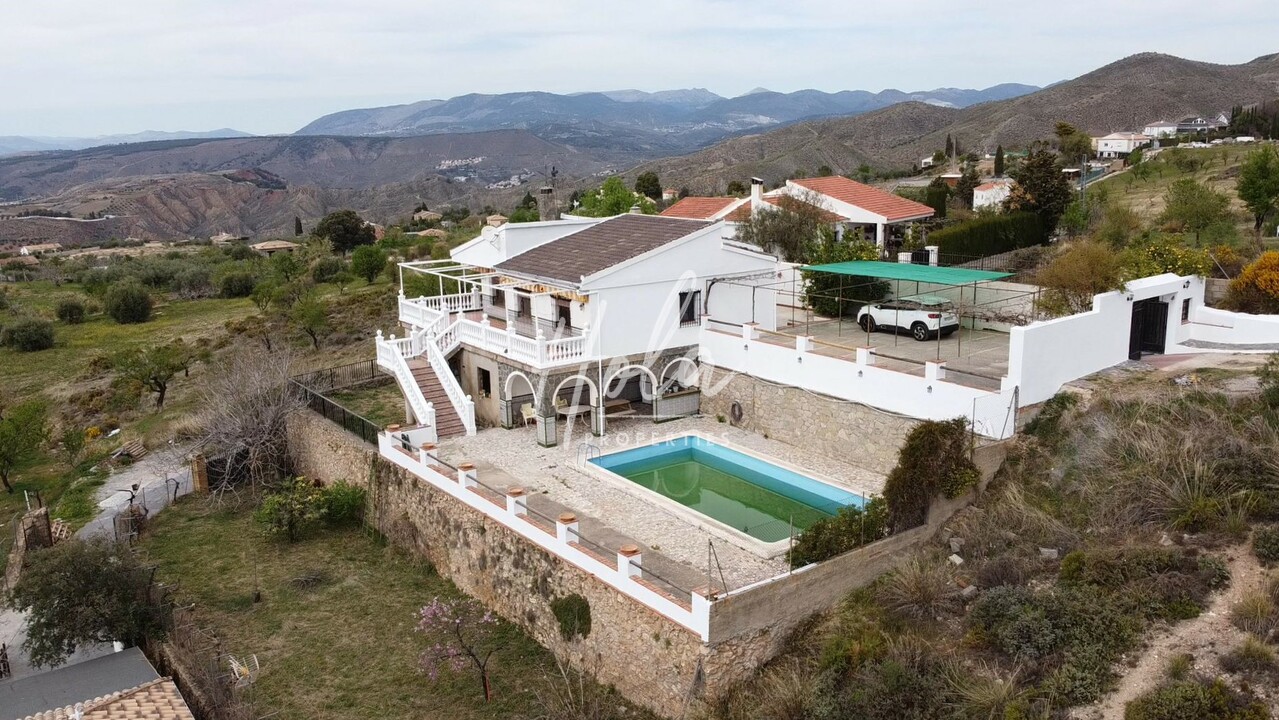 Monachil
Reference: LLW-Chalet Horizonte
€280,000 Asking Price
Chalet for sale
Exclusively available with Hola Properties. This country chalet is located just a couple of minutes outside the tranquil town of Monachil, and only a 10 minute drive to the picturesque city of Granada. As you approach the property, you are greeted by a charming gated entrance exterior that leads into open patio with vines and lemon trees, with plenty of space for parking. Upon entering the chalet, you are immediately struck by the warm and welcoming atmosphere, with plenty of natural light. The large living area features a comfortable seating area, a wood burner, and a good amount of space perfect for enjoying meals with family and friends. As well as a fully equipped kitchen and bathroom, the chalet has three good sized bedrooms, each one with its own unique charm and character. The property is laid out on one floor which makes it extremely convenient. There is also another story underneath the main building with its own separate access, that is currently being used as a storage area, and could be easily turned into a separate self-contained apartment. However the main standout features of the chalet is its outdoor area. The property is situated on a spacious plot of land, and the outside space has been thoughtfully designed to maximize enjoyment of the beautiful surroundings. The swimming pool is the perfect place to cool off on hot summer days, while the surrounding terrace offers ample space for outdoor meals, sunbathing, relaxing with a good book, or simply sit and gaze at the panoramic views of the surrounding mountains. For more information call now on 0034 695 398 679. We do not charge a buyer's fee, which means that you can save up to 5% of the purchase price on your buying costs, Contact us for more information about this.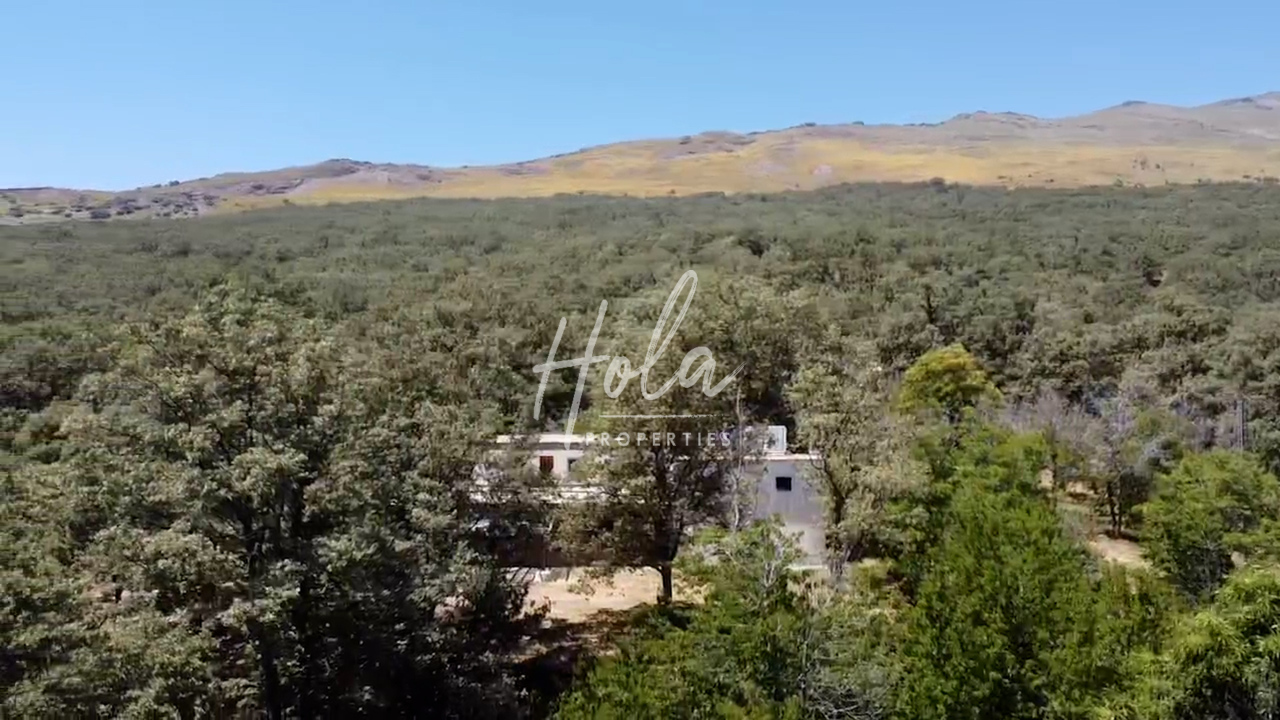 La Alpujarra
Reference: LLW-Finca Corralejo
€275,000 Asking Price
Cortijo for sale
We do not charge buyers fees - you can save up to 5%. Contact us for more information. Video tour available on or website. If sustainability, landscape, fresh air, and nature are words that feature in your property search, then you need to look no further as Finca Corralejo has it all. This property stands high up in the Sierra Nevada Mountains above a white village called Cañar. Over 60,000m2 of land surrounds the property making cultivation an easy reality. There are three houses on the property with 11+ bedrooms between them. The main building is ready to move into, it comes complete with a solar system, central heating, functional bathrooms, and a fabulous central family room. The other buildings require some reform allowing you to add your personal touch and expand this project. Finca Corralejo would be amazing as a retreat, or an off-grid family home. We do not charge a buyer´s fee. For more information call 643 821 326.
Enquiry
To make an enquiry, please call us on 0034 643821326, or complete the form below.