Property Search
Properties
Showing 11-20 of 93 properties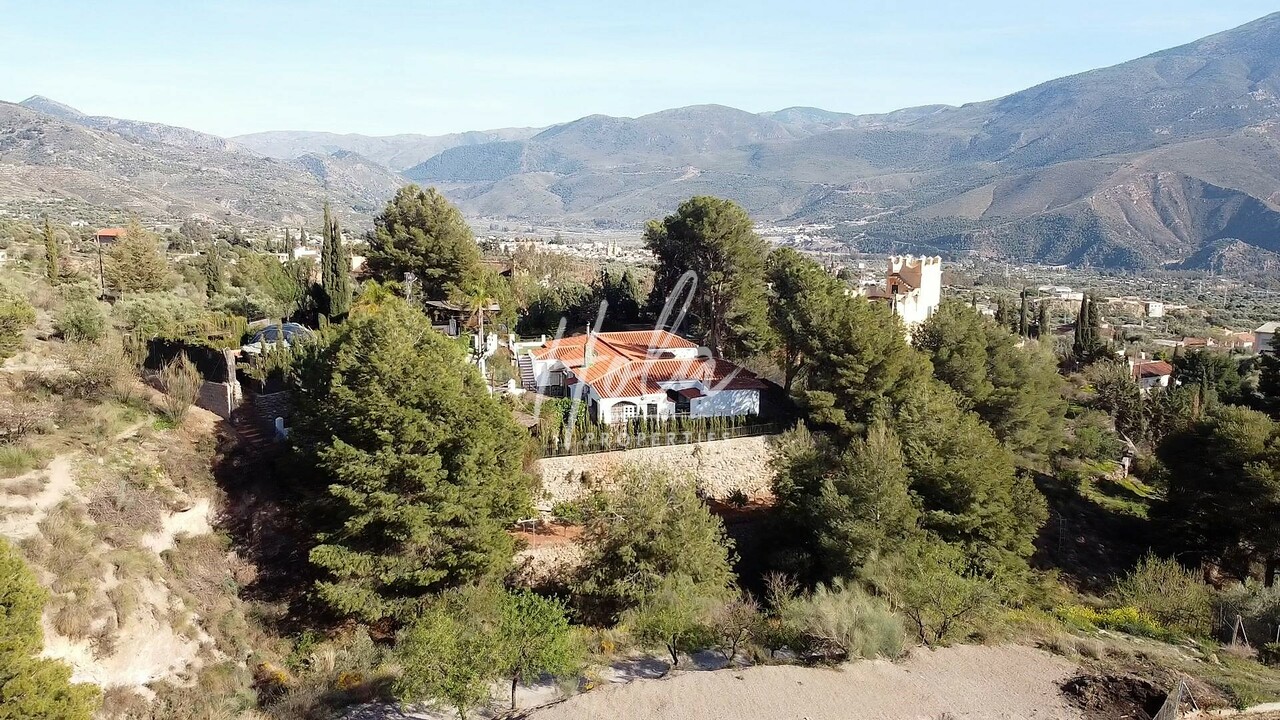 Orgiva
Reference: LLW-Villa Los Pinos
€450,000 Asking Price
Villa for sale
Welcome to this stunning villa in Orgiva, Spain! This property is situated in a truly private and gated location, giving you the utmost privacy and security. Nestled on the edge of nature, you'll be able to soak up the breathtaking views and tranquility that surrounds you. You'll be pleased to know that this villa is not only beautiful but also flexible in terms of its accommodation. Whether you're looking to use it as a retreat center or a private residence, it will definitely cater to your needs. As you step outside, you'll find yourself in an area of other architecturally significant buildings, adding to the charm and exclusivity of the area. The property comes with a fabulous pool, perfect for taking a dip on hot summer days. The gardens are also a highlight, with varied and interesting individual zones that will make you want to explore and relax in every corner. Overall, this villa offers an exceptional opportunity to own a private and serene retreat that's also close to some of Spain's best attractions. Don't miss out on this unique and incredible opportunity!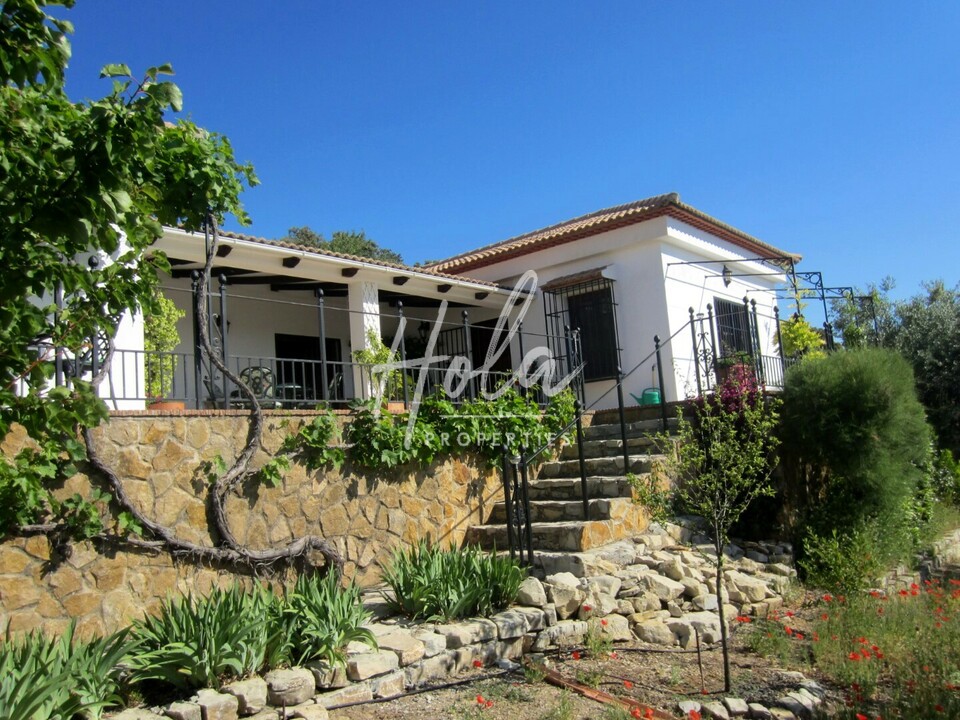 Alcala La real
Reference: LLW-Casa San Juan
€384,000 Asking Price
Country house for sale
An exceptionally well presented villa with a pool and garage. Set in the hills above the pretty village of Ermita Nueva and less than 30 minutes to Granada City and airport. This high end property of 146sqm build sits in 11,000sqm of land which in most part is landscaped and terraced with some natural land to the rear of the property. There are 40 olive trees, fig and almond trees. It has a separate double garage and a stunning 5mx3m pool which has a lovely waterfall feature and offers stunning views across the beautiful Country landscape and over to the snow capped Sierra Nevada mountain range. The property is reached off the country lane by a private driveway and offers lots of parking spaces along with the large garage. To the side of the property is a separate laundry and utility room. A pathway leads you to the front of the property where there is a very large terrace area part covered so it can be enjoyed the whole year round. There is a large dining area, BBQ and simply stunning views. The terraces continue round to the other side of the villa where the pool and the sun terraces are found, exceptionally private and again with amazing views. The Villa has french doors all around on the front for access to it and all have locking reja doors. Inside there is a large family kitchen fully fitted and modern also a large family lounge with dining area and wood burning fire with french doors leading out to the terrace. There is a large double bedroom with built in wardrobes and a large en suite with both a bath and a walk in shower. Accessed from the front terrace is the second large double with a separate dressing area with built-in cupboards and access to an en suite again with a walk in shower and a full bath. The Villa is on mains electric, mains water and mains drainage and has a separate well for watering the garden and filling the swimming pool It also benefits from electric storage heating. This stunning property really is ready to go and the current owners wish to sell it fully furnished and include a car ( Honda Jazz ) in the asking price. It is located in a highly rentable area and a Casa Rural status could easily be achieved and rentable all year round. Granada and the airport is less than 40 minutes away aslo the Sierra Nevada for skiing is just over an hour, Malaga and the beaches less than one hour 30 minutes. Please ask us for more information and photos and enjoy the video.
Lanjaron
Reference: LLW-Chalet BodegaDos
€350,000 Asking Price
Chalet for sale
We do not charge buyers fees - you can save up to 5%. Contact us for more information. Exclusively Available with Lanjaron Property & Orgiva Property. The video tour is available on our website. Just at the edge of Lanjaron, within walking distance of the town, there is an incredible opportunity. Chalet Bodega. This vast property has the potential to be an ideal family home or also a great location for a business. As you walk through the traditional entranceway and into the front gardens you immediately notice the privacy that this chalet has to offer despite its proximity to the town. The main house has four large bedrooms, an expansive lounge, a separate kitchen, and a pantry. As you walk out onto the back terrace the views do quite literally take your breath away. When buying close to the town it is common to have to compromise on views, but this is not the case at Chalet Bodega. As you move down to the lower floor of the house you are in for a real surprise. Below the main house is a huge workshop space, tool room, and even a bodega. This property offers many options for anyone hoping to work from home. All of the land surrounding the property has been set up for easy maintenance, and we know you will just love being able to sample your very own olive oil grown and picked at the property. Chalet Bodega is a one-of-a-kind property that is becoming increasingly more elusive in this area. Don´t miss out! Call us on 0034 695 398 679 for more information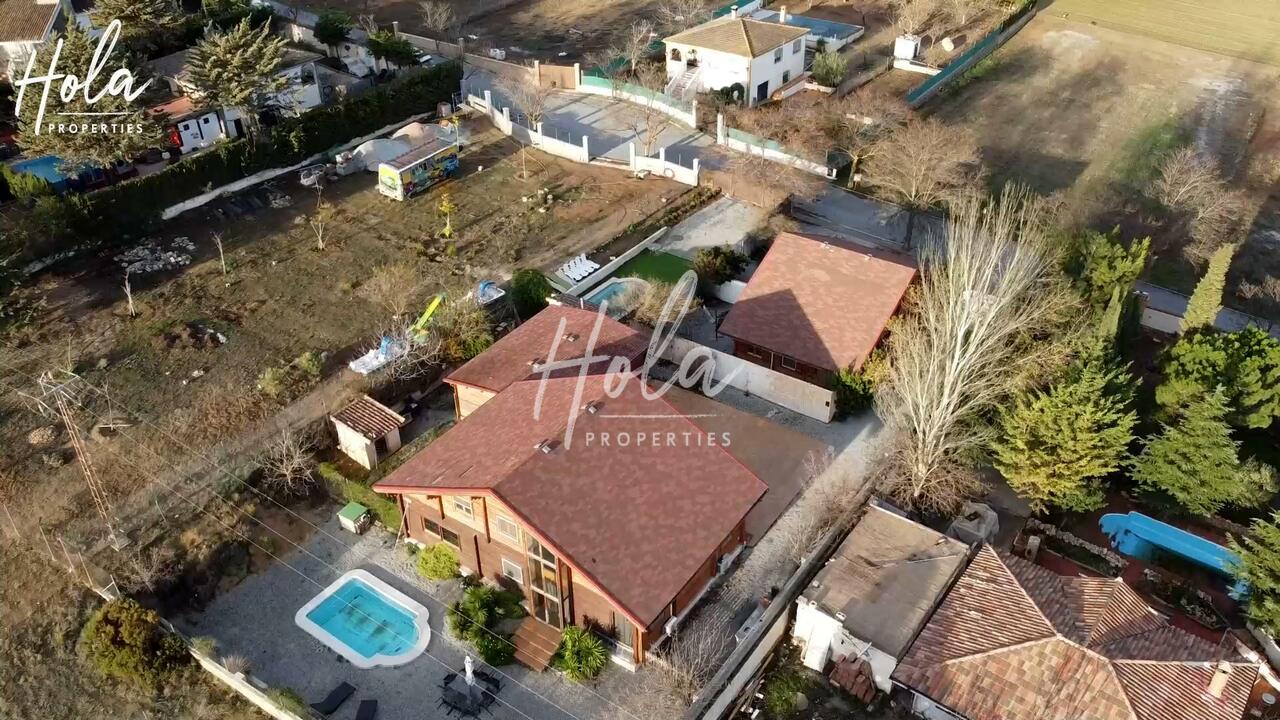 Padul
Reference: LLW-Casa Alegre dos
€350,000 Asking Price
Chalet for sale
Part of our exclusive collection. Have you ever dreamed of owning a business in Spain, one that allows you the freedom to live in the countryside and enjoy fantastic views and a slow pace of life. This property can provide you with all. Situated in the mountains near Padul, a 10 minutes drive from the motorway yet in a peaceful area with sweeping views of the countryside. This Property is the large main building of 253sqm with 10 bedrooms, 3 bathrooms, 1 kitchen, 1 dining room, 1 living room and 1 pool. There is a very spacious garden area to enjoy the summer and dine al fresco. The property has mains water supply, mains electricity and good internet connection you can literally move straight in if there is no work to do at all. For more information call now on 0034 634 166 668. We do not charge a buyer's fee, which means that you can save up to 5% of the purchase price on your buying costs, Contact us for more information about this.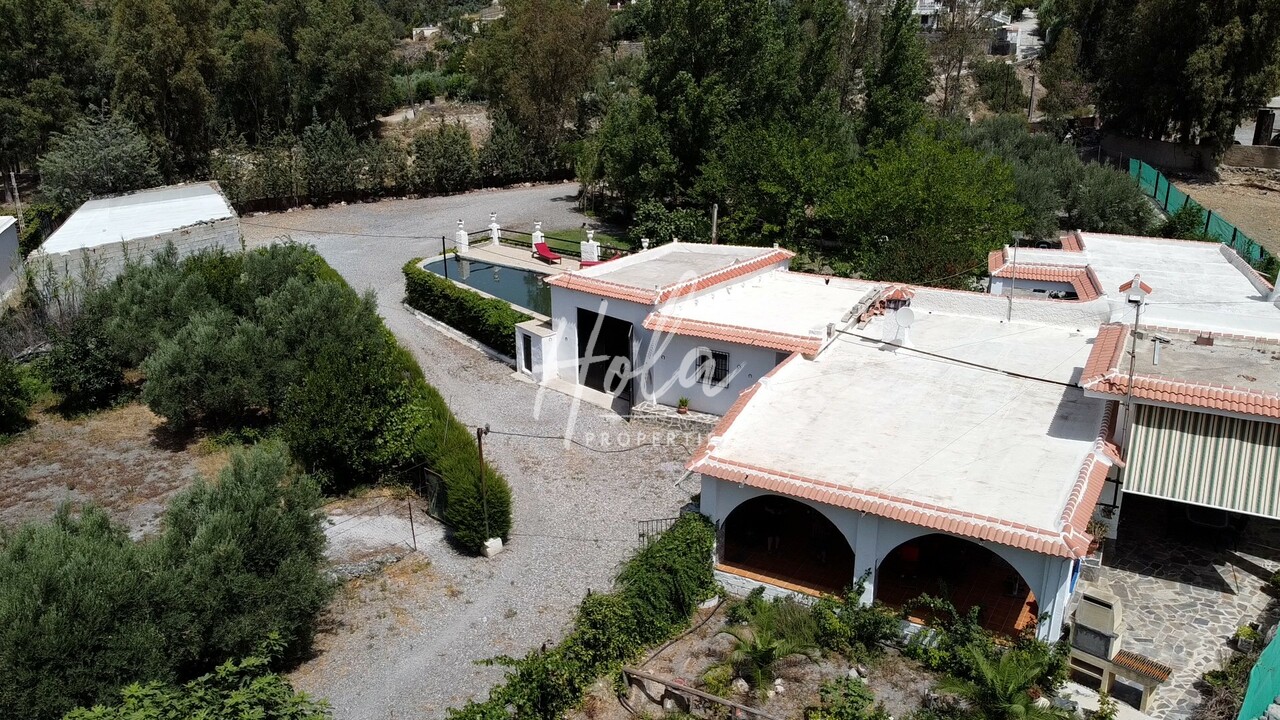 Orgiva
Reference: LLW-Cortijo Rio
€340,000 Asking Price
Cortijo for sale
We do not charge commission to buyers - you can save up to 5%. Contact us for more information Full video available on our website - This 5-bedroom, spacious Cortijo offers all you could want for your new life in the sun. Just a five-minute drive from the centre of Órgiva?€?. This country home would also work perfectly as an equestrian property due to its full stable block, feed store and direct access to some fabulous local trails. This property also has mains water, mains electricity as well as its own well and access to the acequia which means that you have access to water all year round. Boasting over 350 olive trees in full production, as well as around 75 orange and avocado trees, and set across 11000m2 that leads right down to the river. This home really can offer the Mediterranean lifestyle sought after by so many. For more information or to arrange a viewing call: +34 695 398 697
La Alpujarra
Reference: LLW-Finca Roble
€300,000 Asking Price
Cortijo for sale
We do not charge commission to buyers - you can save up to 5%. Contact us for more information Video tour available on our wbesite! We have seen many impressive off grid properties but Finca Roble is up there with the best of them. This finca can be found tucked out of the way in the Sierra Nevada mountains in the most spectacular secluded location. Surrounded by oak trees with views of the Med, Finca Roble has not just one cottage but two. With nine bedrooms in total, you will be able to live in on and rent out the other. Both cortijos were built in the early 2000s to a very high standard. They are absolutely ready to move into. Apart from the main accommodation, there is a vast warehouse/garage that could easily be converted into yet more accommodation. Spring and acequia water feed in to an idyllic swimming pool where you can float below the apple blossoms. If you dream of not only being off grid but self-sufficient, then Finca Roble could not be more perfect. With over 8 hectares of land including flat pastures that have previously been planted with a great variety of veggies, self-sufficiency could not be easier to achieve. For anyone looking to be off gird in La Alpujarra, Finca Roble is a must see. We do not charge buyers fees!
La Alpujarra
Reference: LLW-Cortijo el Canal
€280,000 Asking Price
Cortijo for sale
We do not charge buyers fees - you can save up to 5%. Contact us for more information. ALL OFFERS CONSIDERED FROM PROCEEDABLE BUYERS Cortijo el Canal. Full video tour available for this property on our website. Looking up the Poqueria Valley, taking in the views of the white villages up to the peak of the Sierra Nevada Mulhacen, you are left in awe by the landscape. This valley is the centre of the Alpujarras and where you can find Cortijo el Canal.   The finca is spread out over nearly 5 hectares and is currently being used as an equestrian property. The terrain here is quite distinctive to other areas of the Alpujarras due to the many mature trees. There is an abundance of water at Cortijo el Canal, the acequia is plentiful and the land has its very own spring.   As you come down the drive you are first greeted by a spacious stable and tack room. After this, the main house can be found just off the courtyard. Through the front door you will find a large porch area and pantry, plenty of storage in this home. The house has a gorgeous open plan living area centred around a wood burner. The perfect place to relax out after a long day out in the superb Spanish weather, gardening, walking or bird watching. Apart from the master bedroom and its en-suite, there is also a guest bedroom, a study and the main bathroom. One of the long list of bonus points with this property is that it comes already set up as a business should you wish to take it on.   Around to the rear of the house there are two beautifully presented holiday cottages. Both are fully prepared for guests to self-cater. Not only is the property ready for you to move in and begin living the Spanish dream, there is also a ruin in one of the fields so you could flex your design muscles and add your very own personalised project.    We do not charge a buyer commission! - for more information call +34 643 821 326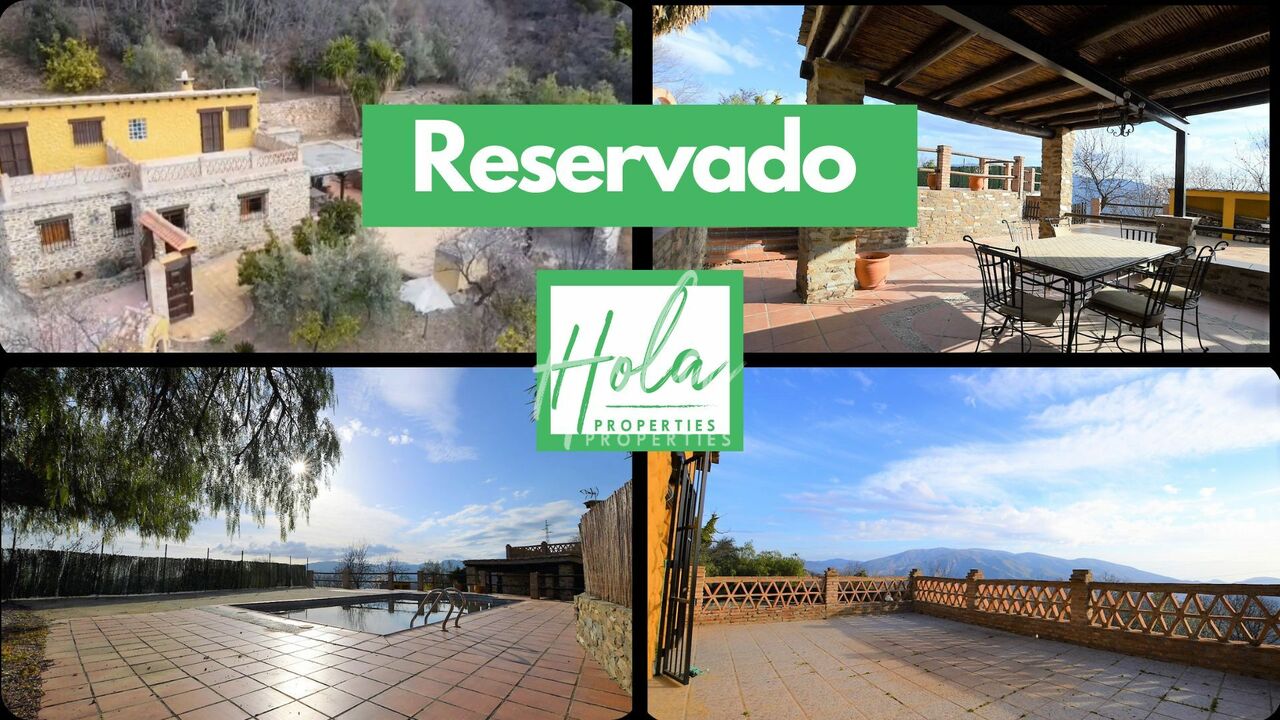 Lanjaron
Reference: LLW-Cortijo Paraiso
€280,000 Asking Price
Cortijo for sale
We do not charge buyers fees - you can save up to 5%. Contact us for more information. Exclusive to Lanjarón Property - Video tour on our website. This beautiful country house is located in a tranquil setting just five minutes above the picturesque town of Lanjarón and has everything one could wish for. As you enter through the gateway you find yourself in a spacious courtyard area, with orange trees, a covered porch with a BBQ area that leads on to a large pool, with plenty of space around to relax and sip a glass of sangria under the Spanish sunshine. The building is South facing and constructed over two floors in authentic Spanish style with exterior stone walls, gorgeous wooden beam ceilings, and large windows that give the house a light and spacious feel. You enter into a large dining/living room with an open plan kitchen, there is also a bathroom and a good-sized bedroom on the ground floor, which could be used as an additional dining room or study if wished. On the second floor, you have 3 bedrooms one with an ensuite bathroom. Two of the bedrooms lead out to their own terraces which have wonderful views of the surrounding countryside, mountains, and even to the sea. The property has just the right amount of land to plant many types of fruit trees, grow a great variety of veggies and enjoy the Andalucian lifestyle. For more information or to arrange a visit, call 0034 604 199 494.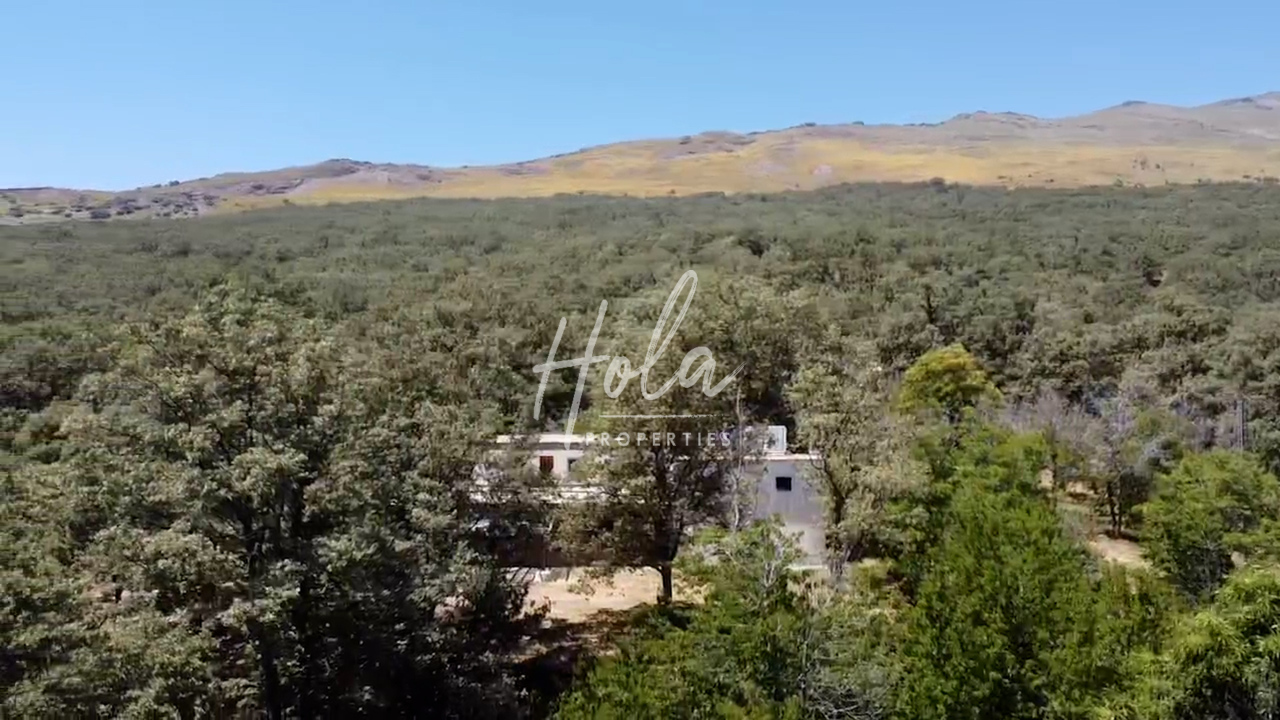 La Alpujarra
Reference: LLW-Finca Corralejo
€275,000 Asking Price
Cortijo for sale
We do not charge buyers fees - you can save up to 5%. Contact us for more information. Video tour available on or website. If sustainability, landscape, fresh air, and nature are words that feature in your property search, then you need to look no further as Finca Corralejo has it all. This property stands high up in the Sierra Nevada Mountains above a white village called Cañar. Over 60,000m2 of land surrounds the property making cultivation an easy reality. There are three houses on the property with 11+ bedrooms between them. The main building is ready to move into, it comes complete with a solar system, central heating, functional bathrooms, and a fabulous central family room. The other buildings require some reform allowing you to add your personal touch and expand this project. Finca Corralejo would be amazing as a retreat, or an off-grid family home. We do not charge a buyer´s fee. For more information call 643 821 326.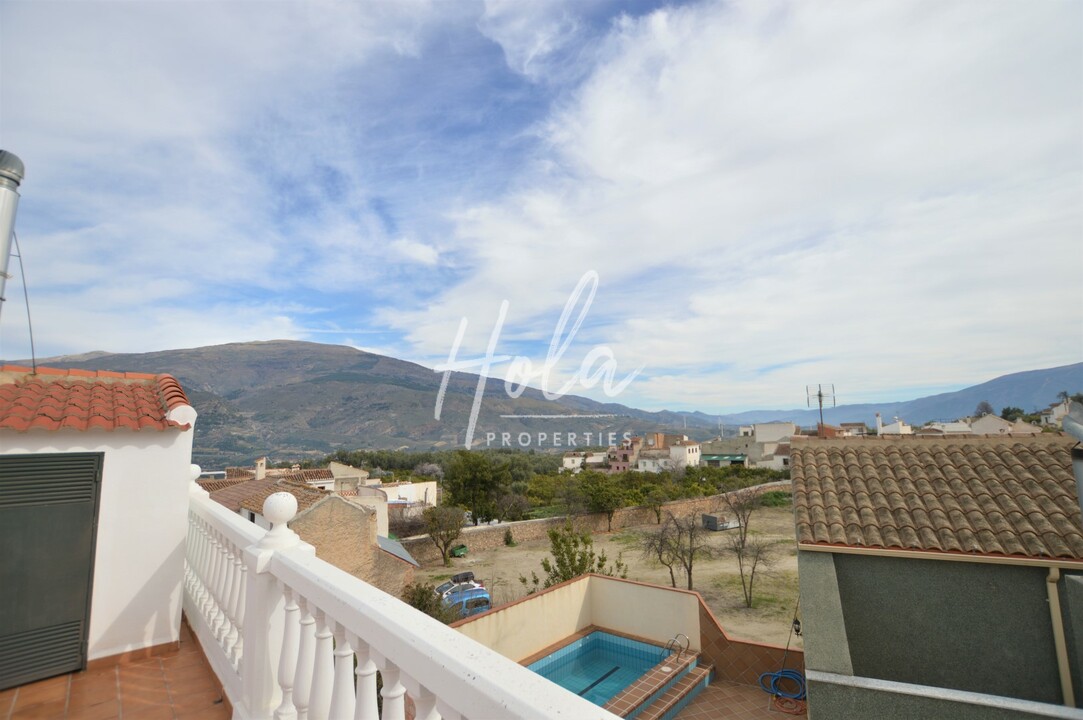 Lecrin Valley
Reference: LLW-Casa Atrium
€250,000 Asking Price
Townhouse for sale
We do not charge buyers fees - you can save up to 5%. Contact us for more information. Casa Atrium. Full video tour available for this property on our website. In the lakeside town of Pinos del Valle, you will find Casa Atrium. This property was completely reconstructed in the early 2000?s and has been done so in spectacular style. The house includes a street level garage, a real boon in the narrow Spanish village streets where parking can be tricky. As you enter the house, you are met by beautiful traditional Spanish tiles. Next, you?ll be struck by a unique feature: high vaulted ceilings, topped by a glass pitched roof that illuminates the entire house. The atrium is overlooked by a second-floor mezzanine level. Off the atrium is a salon for the summer as well as a lounge and library for the winter. There is also a study with a fireplace, the perfect place curl up with a book during the chillier months.  The kitchen is large, fully equipped and even includes an ample pantry. The property has five very good-sized bedrooms, one of which is a master with en-suite. Up on the roof terrace, you can enjoy views of the campo and mountains surrounding Pinos del Valle.      We do not charge a buyer commission!
Enquiry
To make an enquiry, please call us on 0034 643821326, or complete the form below.