The province of Granada, with its rich tapestry of history and culture, is a treasure trove of traditions that come alive through its numerous festivals and celebrations. From the vibrant streets of Granada city to the serene landscapes of the Lecrin Valley, Orgiva, and Lanjaron, the entire province offers a year-round celebration of its diverse heritage.
Lecrin Valley: The Orange Blossom Festival Every spring, the Lecrin Valley is adorned with the sweet scent of orange blossoms. The Orange Blossom Festival is a tribute to the valley's abundant citrus groves. Locals and tourists alike gather to celebrate with music, dance, and, of course, a taste of the freshest oranges. A tradition that has been passed down for generations
.
Orgiva: The Alpujarra Fair Nestled in the heart of the Granada province, Orgiva hosts the Alpujarra Fair, a celebration of the area's unique culture and traditions. The fair showcases local crafts, foods, and music. Traditional dances, such as the 'fandango alpujarreño,' take center stage, with participants dressed in colorful regional costumes. A highlight of the year in Orgiva.
Lanjaron: The Water and Ham Festival Lanjaron, renowned for its natural springs, celebrates the Water and Ham Festival every June. The festival begins with a grand parade, followed by the 'Night of the Water,' where locals and visitors engage in a massive water fight. The festivities also include tasting the region's famous cured ham, accompanied by the refreshing waters of Lanjaron.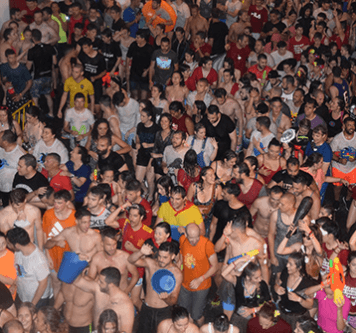 A Kaleidoscope of Traditions Across the Province The cultural calendar of the Granada province is dotted with various celebrations:
Parades for Special Religious Days: Semana Santa (Holy Week) is marked by solemn processions depicting the Passion of Christ throughout the province.
Traditional Flamenco Shows: From the caves of the Sacromonte district in Granada city to the villages of the Alpujarra region, the rhythmic claps and foot-tapping of flamenco dancers resonate.
Moorish Festivals: Celebrating the province's Moorish past with reenactments, music, and dance.
Local Fiestas: Each town and village in the Granada province has its own fiesta, celebrating its patron saint with music, dance, and food.
It would be a very lengthy article if we included every festival here! So look out on our social media pages and blogs, to see whats coming up.
In conclusion, the Granada province is not just a region of historical monuments and scenic beauty; it's a land that celebrates life in all its forms. Whether you're a culture enthusiast or a curious traveler, the Granada province promises a celebration at every turn.
To read more like this just click here
If you prefer to see videos, then just visit our YouTube channel here